There is no progress without an occasional stumble
14.4.2017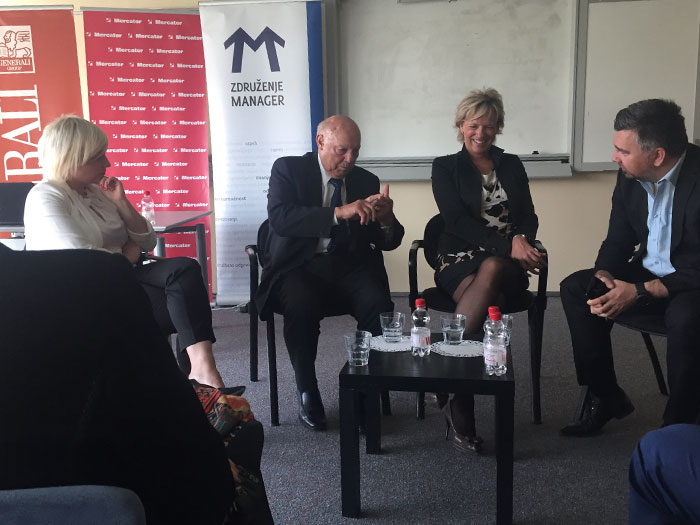 At the introductory meeting for new members on 14 April, we also talked with the special guests Aleš Mižigoj, an experienced manager of long years and winner of the life achievement award 2016 for work in the management, and Aleša Mižigoj, President of the Management Board of Medex.
In a relaxed conversation, moderated by the members of our Association Lovro Peterlin, President of the Young Managers' Section, and Alenka Vidic, member of the Board of the Young Managers' Section, the guests shared with the participants some of their experience in the management of the family company Medex. They also talked about the challenges faced, the relationship between them, the basis on which they take decisions, and the mistakes occurring in management, which enable both business and personal growth. "There is no progress without an occasional stumble," said Aleša Mižigoj about making mistakes and added that "knowing how to get up and go on is more important than winning".
The guests also disclosed the recipe for a successful family company, primarily hiding in the ability to accept different opinions and views, and search for a common solution within such differences. Aleš Mižigoj ascribes the success to good relations: "In fifty years, we never quarrelled, and that is the healthy core."
The conversation was followed by the meeting and active socialisation of new members, who talked to each other and exchanged business cards in a relaxed atmosphere.